Heritage
Moseley School of Art was erected in 1899 and designed by the leading local Arts and Crafts architect William H. Bidlake.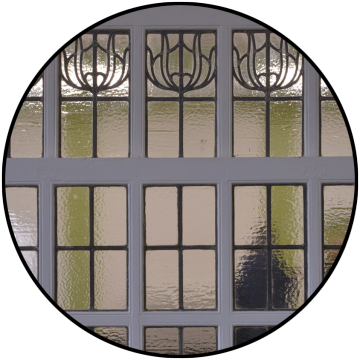 It is a building of architectural artistic and historic special interest and was in need of such serious repair, that it was included on Historic England's Buildings at Risk Register and had been identified by The Victorian Society as one of England and Wales's Top 10 buildings at risk.
The significance of the School of Art, can broadly be described under two aspects. Firstly its significance in architectural terms relating to W.H. Bidlake and his design, in particular the dignified and imposing Moseley Road elevation, which is a strong feature in the streetscape. Secondly, its significance, in the history of art education generally and of the way in which this developed over time.
As the first purpose-built branch of the Birmingham Central School of Art (the first in the country), Moseley School of Art originally catered for the need to provide training through evening classes in arts and crafts, including jewellery and metal work that were essential to Birmingham's continuing economic success.
The building continued to function as a very successful school for the arts until the late 1970's. Some of its alumni became internationally famous including: Norman Pett, Daily Mirror cartoonist and creator of the WWII comic strip heroine Jane who Winston Churchill called "Britain's secret weapon";  Peter Phillips, who studied at the school from 1953-55 and became one of the founders of the international 'Pop Art' movement and others who became notable popular musicians including Christine McVie (Fleetwood Mac), Roy Wood (Wizzard) and Ali Campbell, Earl Falconer, Brian Travers and James Brown (UB40).
Moseley Muslim Community Association bought the School of Art building from the local authority. Although the building was not derelict, much of it was unused, the roof leaked, and the windows were rotting. Since that time, the Association, has ensured that the building was refurbished, so that it could be used by the community. Despite the Association's best efforts, the extent of the maintenance that was possible within its own incoming resources, was however limited and some building elements continued to deteriorate significantly, before being addressed by the HLF and Historic England's Funded Project.
Enquire for more information